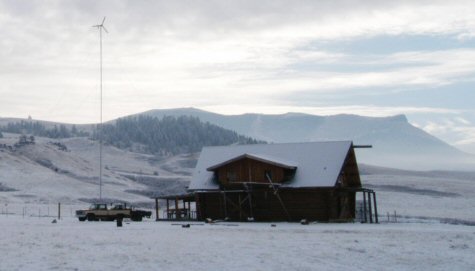 A.R. D'Hooge, © 2003

The Demontiney log house at Rocky Boy's Reservation is off-the-grid with solar and wind power. 84-foot-tall pole-tower holds the wind turbine that averages 1 kilowatt production.
ROCKY BOY'S INDIAN RESERVATION - An unfinished log house sits on the edge of the Bear Paw Mountains a few miles east of Box Elder.
Not a log cabin - a two-story log house. And not a log house with an ordinary history or an ordinary power supply.
Ted Demontiney, 38, has been working on the house since 1994, the same year he started his business, D's Logworks, contracting with the U.S. Bureau of Indian Affairs on Rocky Boy's Indian Reservation. This fall he completed hooking up the house's power supply - a wind turbine and solar panels, the only power supply the house has.
"I guess we chose the solar and wind power as opposed to the electric bill," Demontiney said.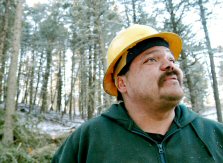 A.R. D'Hooge, © 2003

Ted Demontiney started his own business, D's Logworks, to pursue his dream, "Mother Nature gave us this timber. We should be able to build our own homes,"
Using renewable power - as well as building a house from local logs and harvesting local timber for a living - is a part of a personal philosophy of using natural resources to their fullest potential. Demontiney believes in living close to the land and using what the land provides.
"Mother Nature gave us this timber. We should be able to build our own homes," he said.
The outside of the house is completed, except for being insulated. The frame is done inside, and basic plumbing has been installed. Demontiney said he hopes to have enough of the rest, like insulation, windows and flooring, completed so his family can move into the house this year, but that next summer is looking more likely.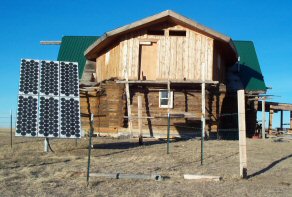 J.F. Salmons, © 2003

Solar panels complement the wind turbine (not shown, see above and below) at the Demontiney log house.
Construction has kind of been in limbo since the majority of the work was done in 1994, he said, and he works on it whenever he has time and money to do so.
"That's a little tricky, with running a business and raising a family," he said.
Demontiney's wife, Roxanne, is an elementary school reading teacher at Box Elder Public Schools. His son Dawson is a junior and a basketball player at Box Elder, and his son Makray is a freshman at Rocky Boy High School.
His daughter Sydalia is a third-grader at Box Elder, and his youngest daughter, Sequioa, is 5.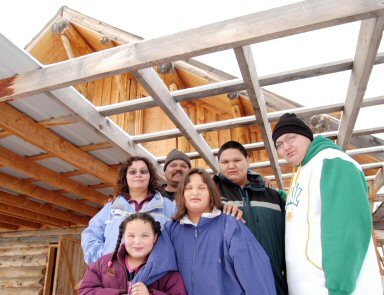 A.R. D'Hooge, © 2003

Ted Demontiney and his family – wife (and Box Elder elementary teacher) Roxanne, sons Dawson and Makray, and daughters Sydalia and Sequioa – pause to imagine the good times ahead when they move into their energy-efficient, family-friendly log home.
His sons help him on the house from time to time, Demontiney said, but they don't seem interested in logging or going into construction. Dawson plans to go into mechanical engineering and Makray is interested in becoming an accountant.
Demontiney's logging and house building go back to the time when his father, John Demontiney, a retired civil engineer in Albuquerque, gave him 160 acres of land on the reservation in 1994.
About the same time, Demontiney decided it would be better if money spent to harvest timber on the reservation stayed on the reservation.
"I want to keep the money local and try to build the community," he said.
Demontiney approached the tribal government and persuaded it to lend him enough money to bond him for bidding on BIA timber contracts.
The tribal government lent him $6,000 - he is now self-bonded - and he got his first contract.
"I made about $32,000 in four or five months," he said.
Demontiney is now working on his sixth BIA lumber contract. He has his own lumber mill, and also builds fences. He has two full-time employees.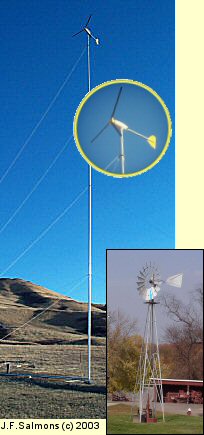 National Park Svc.

Not Your Grandparents' Windmill – The Demontiney log home is powered by a one-kilowatt wind turbine atop an 84-foot-tall poll-tower. Inset telescope view shows 'lean, clean' design of a modern wind turbine for generating electricity. This is a far cry from the water-pumping windmills (see inset) found on nearly every farm a generation or so ago.
Earlier this year, Steve Chvilicek of Frontier Landscaping gave him an idea for a new business. Demontiney builds signs out of the timber he logs.
"That was a newfound wealth," he added.
The first sign was for Frontier, but he has built several on Rocky Boy, and is finalizing details of some jobs at the Fort Belknap Indian Reservation, Demontiney said.
He added that he knows several members of the Fort Belknap Indian Community Council, having gone to school with them.
Demontiney spent his early years in Yakima, Wash., but his mother, Bonita Helgeson, decided to send him to live with her parents, Raymond and Dora Helgeson, at Lodge Pole when he was 14. "I was getting too wild for my mother," he said.
He said he owes his grandparents a lot.
"I learned how to work and respect people and help people from my grandparents at Fort Belknap," Demontiney said.
He graduated from Hays-Lodge Pole High School in 1984, and took classes in autobody repair at Northern Montana College for a couple of years.
Since 1994, he hasn't had much spare time.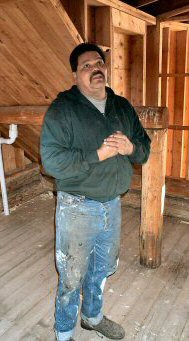 J.F. Salmons, © 2003

Ted Demontiney reflects on life lessons that helped him pursue his dream of a happy family and sustainable, healthy community.
"I run a really busy schedule. That's why (the house has) been sitting," he said. "In my business I wear a lot of hats: salesman, logger, sawmill operator, house builder."
The unfinished house has about 3,200 square feet of floor space, including two stories and a basement, and will have an atrium in the back of the house. It has four bedrooms and a common room upstairs, and several more rooms downstairs.
Demontiney added that he intends to add two skylights to the roof.
He designed the house, and paid about $10,000 for help building the frame, putting the walls up and laying the foundation in 1994. He got some financial assistance from the tribal housing board to lay the foundation, he said.
He built the house from what he harvested.
"These logs are native logs from our own timber up by the ski bowl," he said.
Some of the logs are so large he had to hire a local contractor at $800 an hour to lift them into place with a crane, Demontiney said. The log that runs the length of the house parallel to the peak of the roof is 52 feet long and 18 inches to 24 inches in diameter.
He cut some of the lumber for the frame and the slats for the walls at his own sawmill, although he bought lumber from a lumberyard for the finishing work.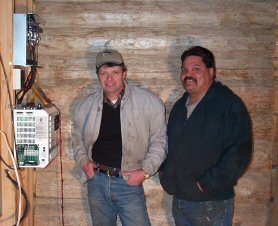 J.F.Salmons, © 2003

Steve Hicks confers with Ted Demontiney over upgrades to Ted's in-home power system that converts and regulates DC to AC power.
He got the idea for the power supply by doing research on the Internet, Demontiney said. Using wind power seemed like a good idea.
"Every time I was building out here it was windy four days out of the seven, five days out of the seven," he said.
He contacted Steve Hicks of Mountain Pass Wind Co. in White Sulphur Springs, and Hicks designed a system for him.
The system cost about $15,000 - Demontiney used money from a tribal housing board fund to help pay for it - but it would have cost more to get hooked into the power grid, he said.
Demontiney's house is about a mile from the power grid, and he said it would have cost about $16,000 to $18,000 to have a line put in, plus monthly power bills.
Hicks said the system will power the house nicely, as long as the power use is kept low by using low-cost fluorescent lighting and alternative power supplies, like a propane stove and clothes dryer.
"This house is going to consume about one-tenth the energy of a typical house," he said. "The most important thing in these systems is getting the load down."
The system includes a wind turbine on an 84-foot-tall tower that averages 1 kilowatt production, with a peak production of 1