Information, Inspiration, and Ideas for People in Open Spaces
Promoting the Entrepreneurial Community Spirit
NARFI Rural Resource Directory
Top : Futures Planning Skills
Futures Planning Skills Categories
Environmental Scanning (9)


The purpose of environmental scanning is to serve as an early warning system to potentially significant external developments in their early stages. The earlier the warning, the more lead time we have to plan for the implications of these changes.

Scenarios (7)


When combined with environmental scanning and monitoring, scenarios help us to develop a long-term perspective and to recognize possible alternative futures for which we can plan a range of routes and action that may be required over time.
Futures Planning Skills Links
Search Directory
Pages Updated On: 12-Feb-2008 - 17:17:35
Links Engine 2.0 By: Gossamer Threads Inc.
---
© 2001-2008 North American Rural Futures Institute | Our Privacy Statement
Website design and hosting by Sohodojo, home of the nanocorp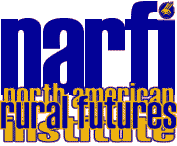 [ Translate page ]
[ Search site ]
---