Futures Thinker Bio: Craig Erickson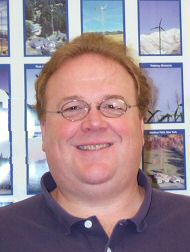 Craig Erickson was born and raised in Moorhead Minnesota, just across the border from Fargo, ND. He graduated from the Brown Institute of Broadcasting in Minneapolis in 1983 and set his course for a career in broadcasting. After three years in Burlington CO, Craig took a job at New Media Broadcasting in Havre MT and worked there for the next 12 years.
In 1999 Craig was hired at Bear Paw Development Corporation (BPDC) in Havre, and shifted his career from broadcasting to economic development.
As an economic developer, Craig determines the economic viability of client-desired projects. He also looks for economic opportunities for local communities and BPDC clients across a five-county region of Northcentral Montana. His work includes everything from poverty reduction strategies with the North West Area Foundation to helping a local Hutterite community develop a baby carrot processing plant, to community assessment/planning with the Montana Economic Developers Association. In 2004, Craig was hit by the potential of wind power for Montana.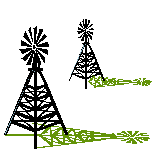 "When Liberty County developed that wind turbine at their shop, that's when I got interested in wind," Craig said in his post-conference debriefing with NARFI Director Timlynn Babitsky. "Don Marble showed me a power bill from Northwestern Energy and it read 'zero'. That got my attention."
Not far from Craig's hometown in Moorhead is the demonstration site of a large wind turbine for one of the utilities in eastern North Dakota. Craig was impressed and began to look into the economics of wind power for Northcentral Montana.
"Wind looks very promising. The policy makers may not understand that yet, but at the grass roots, people are starting to really get that," Craig said. "They know it's an opportunity and they want to see it happen. The background research needs to be done. The players need to be brought to the table. It shouldn't be forced down anybody's throat but we need to figure out how this can be done in Montana. Minnesota has a great model."
Craig Erickson's Conference Report

This was it! My "A-ha!" moment came during a presentation by Douglas C. DeVries, Vice-President of Agricultural Marketing for John Deere. Mr. DeVries was the keynote speaker on the first day of the Community Wind Energy Conference in Minneapolis, Minnesota on Wednesday, June 23. DeVries called his presentation: "John Deere - Sustainability and Wind Energy". As he described why a farm implement company supports community wind energy, I came to understand that wind could very well be the value-added agricultural product that many Montana farmers and ranchers have been looking for as a means to diversify their operations and make them profitable.
According to DeVries, John Deere's study of wind energy has led them to the following conclusions:
Community-based models seem to be the most attractive for the following reasons:

Local benefit seems greater
Distributed energy source
Broader landowner opportunity
Investments are substantial
The impacts supports John Deere's long-term objectives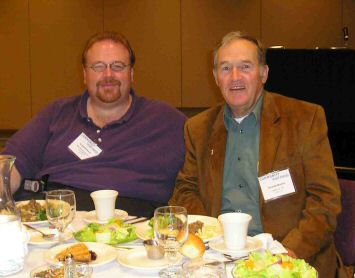 Craig Erickson and Don Marble represented the Hi-Line of Montana at the Community Wind Energy Conference thanks to NARFI mini-grants that helped offset the cost of attending this important event. Craig and Don are among those leading the charge to see that Montana takes adavantage of its extraordinary perpetual resource, the winds that cross the Big Sky.
DeVries said that John Deere believes that wind energy will continue to be more viable as an energy source and the value of a distributed wind energy system will sustain a vibrant rural community.
As I listened to DeVries' presentation and the others that followed, the question that formed in my mind was why isn't alternative energy development a key component of our nation's energy policy? Wind not only makes sense, it makes dollars for the rural communities in which projects have been developed.
A report prepared by Northwest Economic Associates for the National Wind Coordinating Committee analyzed the economic development impacts of wind power in Lincoln County, Minnesota, Morrow and Umatilla Counties, Oregon, and Culbertson County, Texas. According to the study, the economic experiences common to each of the case study areas were as follows:
Tax effects, particularly property tax that support local entities, were important in all cases. If the entities' budgets do not increase because of the project, the assessed value the tax base increases, and the local tax burden is redistributed. This, in effect, shows up as an increase in household income, which can directly affect the local trade and services sectors and to a lessor extent other economic sectors.

The study also found that while there were differences among the study areas in the mix of annual leases and permanent easements and the type and size of payment, the annual revenue received by households in the areas was a significant source of household income and had a significant total effect on the economies.
The study, Assessing the Economic Development Impacts of Wind Power, is available at www.nationalwind.org.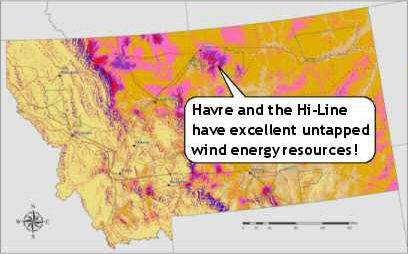 The information I gathered at the Community Wind Energy Conference has convinced me that economic development organizations in the northern high plains must seriously consider adding the development of community wind and other alternative energy projects as a key strategy in their planning documents.
Granted, there are many challenges facing the industry, but with the support of companies like John Deere, the opportunity to forge effective public/private partnerships is growing and with these partnerships will come the leverage necessary to influence policy makers to consider wind, solar, and other alternative energy sources as significant components of our nation's energy policy.
--Craig Erickson--
NARFI Futures Thinker