Introduction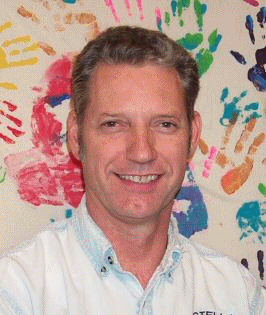 If you go to Google and type in "be an entrepreneur" over 32,000 web pages will come up in your search results. You'll find everything from self assessment quizes, to every sort of opinion and advice. Entrepreneurism is a hot topic these days. It's taught in our schools, from elementary to university. And there are nearly 40,000 books with "entrepreneur" in the title at Amazon.com alone.
For the past two years we have been observing rural entrepreneurs in remote Havre, Montana. Like all things up on the High Plains, it takes something special to survive in this harsh environment. This is even more true for rural entrepreneurs. To survive and thrive, they need all the usual traits, and then some.
Here, we shine the NARFI spotlight on four of Havre's entrepreneurs: Dave Shaw, a 40s-something lifelong entrepreneur in the region; Wally and Heather Wilson – brand new entrepreneurs; and Kris Shaw an artist-entrepreneur who recently helped to start Havre's artist co-op. These four folks each have the qualities to make it in northcentral Montana.
What qualities will serve you well as an entrepreneur, especially in rural areas where market conditions and lack of support services can make growing your business even more challenging? Consider this list, and keep these qualities in mind as you read Dave's, the Wallygator's, and Chris' stories.
Given the difficulties, the first thing you need is determination.
Start with what you know and can do, then extend it a little bit.
Believe in yourself and your idea.
Make mistakes and make them often. Learn from them.
Be ready to solve your own problems.
Always have a strategy.
Stick to ethics...your reputation can help or harm you.
Be organised.
Dave Shaw
| | |
| --- | --- |
| | |
| Dave Shaw is the new owner/resident-manager of the Atrium in Havre, Montana. Dave's enthusiasm is contagious as old and new tenants see the improvements and increased customer traffic in the downtown retail shopping landmark. | |
At 9 years old, Dave Shaw got his first lessons in entrepreneurism doing weed control on his father's farm by driving a tractor for a dollar an hour. At 14 he was driving the combine and doing almost all the welding on the farm for his Dad. By high school graduation, Dave knew how to work hard and to antcipate a need in advance of being requested. It got him union wages in his first couple of jobs.
"I learned to be persistent. I wanted to work for a local company so I came back early every morning for a whole week to ask the boss if he needed anybody. Every day he would tell me 'no' until one day somebody didn't show up and I was immediately hired."
In his mid-20s Dave had his first big business opportunity when his Dad offered to sell him a section of the farm. In order to buy it he had to learn the ropes of applying for a loan. Once again, Dave found out, not to take "no" for an answer! Two years later, after a mountain of paperwork and a ton of delays, Dave gave his dad a check for $200,000 and bought the land to start his own farm. Over the years Dave took his lumps and learned what did and didn't work in being an entrepreneur up here on the Hi-Line.
"People will tell you it can't get done or it isn't worth doing. And if you listen to them, you'll never do anything. Ten years ago a buddy and me talked to an instructor we looked up to, about starting an Internet Service Provider service up here in Havre. Well he told us we'd be throwing our money away as there was just no market. For two years we sat and watched the Internet grow. We asked again what he thought about doing ISP service. Once again he told us that in 4 months some competitor would come in and blow us out of the water. I thought about this really hard, then shook hands with my buddy as a 50/50 partner, threw $7500 on a credit card, and worked for 6 months for nothing. Our third year income was $311,000. I was the first Internet Service Provider in Havre, besides the college."
One of Dave's current ventures Stellar Computer Consulting was named Regional Micro-business of the Year in 2003 for a five-county area of north central Montana. Stellar has excelled at being flexible enough in the competitive environment of the telecommunications industry to grow into a significant player in providing quality, high-speed Internet service to northern Montana. Stellar serves residential and commercial clients with high speed Internet connection, web site hosting, computer networking, hardware repair, programming and software installation. Stellar was the runner-up for the statewide Micro-business of the year competition for 2003 in Montana.
"I've really learned that the very best in customer service is what it takes to be successful. When I install a system, I sit with my customer for a couple of hours to make sure they know how to use it and how to do the most important things they want to be able to do with their new machine. I'm available 24/7/365. My customers can call me in the middle of the night if their system goes down and they need to be on the Internet. I do everything I can to provide stellar service."
His latest venture is a cornerstone commercial building in downtown Havre. When the tenants were given 30 days notice that the building was about to close, Dave saw the opportunity and bought The Atrium Mall in late March, 2004. Dave rolled up his sleeves, rejuvenated and repaired most tenant spaces and moved others to better locations within the mall. By early May his optimisim had infected the tenants. By June he had landed a significant new tenant beating out 9 other bid proposals for the headquarters office of the Community Ventures Coalition. In September, local artists opened a gallery in the Atrium.
"A woman came in the other day looking for rental space. She said there is something really happening here in the Atrium and she doesn't want to be left out." grins Dave. "My key to entrepreneurial success is working with my customers to help make them successful. When we roll up our sleeves together, there's a lot of positive energy that helps us both to win."
The Wallygators
| | |
| --- | --- |
| | |
| Wally and Heather Wilson's Wallygators Express takes quality coffee service directly to customers along the Hi-line of Montana. | |
Heather and Wally Wilson – Wally, 27, and Heather, 21 – are newly minted entrepreneurs. Armed with high school diplomas and not wanting leave Havre, they realized that their employment options were limited. With two babies and limited opportunities, the couple decided to strike out on their own. After coming up with several good ideas, the couple decided last November to pursue a mobile coffee business. In July 2004, they began operating Wallygators Expresso, a mobile coffee delivery service that travels around to local businesses each morning, taking orders for specialty coffees and then making the drinks right outside their customers' doors. Servicing a different route each day, the customer's once a week coffee day becomes pretty special.
What happened from November to July gives deep insight into rural entrepreneurism. Armed with the idea, the couple dug in to do their homework. Heather visited more than 200 businesses in Havre and talked to people on the street, gathering market research information. Heather worked for free with a specialty coffee maker in Great Falls to learn the day to day process and tips of the trade. Next they worked on a business plan. They found mentors in established businesses and asked for advice and recommendations. With a solid business plan for Wallygators Expresso in hand, they were then ready to look for funding. Selling the business idea to a bank was really tough. With no track record, and not much collateral, they were turned down for a loan by two different banks.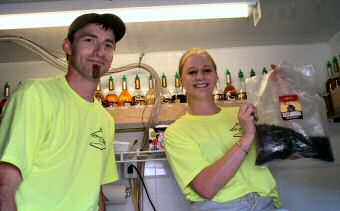 Heather: "But that didn't stop us. We refinanced our house, cashed our income tax returns and charged up all of our credit cards to get this business up and going. There were days when we'd get really down because at every turn people said 'no' or 'you can't do that'. But we really wanted to do this business so we picked each other up, brainstormed to come up with our Plan A, B, C... to Z. And we kept knocking on new doors and wouldn't take 'no' for an answer."
Wally: "The biggest obstacles came because our business was a new idea. Nobody here had heard of a mobile coffee service so they just didn't believe that it would work. Again and again we'd hear 'If it's such a great idea for a business, somebody would have done it already.' We just couldn't convince some people. It really surprised us that people we thought would really be interested, just couldn't see the potential. But tough as it was to hear it, we just wouldn't take 'can't be done' as our reality."
Into their 4th month of business now, the Wallygators are ecstatic. On Fridays when they spend part of their day seeking out new customers, their route list grows weekly and they've been invited to service special events. Their reputation is growing. In the Havre Daily News annual 'Best In Town' contest, Wallygators came in second ahead of all but one local coffee service. Business is booming. They've paid off all their loans, paid off their credit cards and are now looking for their next new venture. They know it will be months of hardwork before any idea becomes a reality, but they've learned what it takes and they are ready to try.
Chris Shaw
| | |
| --- | --- |
| | |
| Chris Shaw at the Artist Co-op at the Atrium in Havre, Montana. | |
Kris Shaw doesn't think of herself as an entrepreneur. She works as a professional framer, at High Plains Gallery, where she has a large following of loyal, repeat customers. Her eye for color and her talent for framing are highly regarded throughout the region. And Kris is an artist. She works in watercolor, pencils, pastels, and ink. She has her own exclusive line of original jewelry, created from printed papers and she creates unusual, innovative wire sculptures. She enjoys exploring new techniques and pushing the media to learn what she can do. She's not one to shy away from a challenge, and enjoys doing whatever people say 'cannot be done'.
Her paintings and sculptures are shown at the Lewistown Art Center, MonDak Heritage Center in Sidney, the Paris Gibson Square in Great Falls, and at various galleries around Montana. She's an active member of the Havre Art Association, Montana Mid-State Art Society (MMAS), and serves on the Board of Directors of the Montana Watercolor Society (MTWS). But still she doesn't see herself as an entrepreneur.
Early this year Kris discovered the Global Art Project, a biennial, world-wide art exchange to promote world peace. She took on the challenge of introducing it to folks along the Hi-Line, and volunteered to be the regional co-ordinator for the project in Montana.
"I had good days and bad days in talking with folks about the Global Art Project. Some folks wanted guarantees that what they received would be equal in value to what they sent. Others said that they weren't 'artists' and so they didn't want to participate. It was really disheartening when people missed the point of the art exchange. But I didn't give up."
Most recently, Kris was instrumental in helping to form the artists co-op in Havre and in opening a members' gallery in The Atrium Mall.
"Some artists here have agents or people who take their art around and sell it on commission. But most of us don't. We do two shows a year and one of them required that all pieces had to be new to the show. We saw a need in Havre for an artists' gallery so we could show and sell our art. A couple of people had tried art galleries. They did it on their own with their own money, but for a number of reasons' they didn't succeed.
When Mary, Vince and I resurrected the gallery idea, we got a lot of negative feedback. So at our first meeting I wrote on the top of the agenda sheet, an old Chinese proverb that said, 'People who say cannot be done should not interrupt people doing it.' It was hard for me not to listen to the naysayers. But we just couldn't do it. We decided to do the co-op gallery as a 4 month test project. It's an excellent way to see if the public supports it and to learn from our mistakes. And we are looking at other galleries that have been successful. We don't need to reinvent everything to make it feel that it's ours."
Lessons Learned
For an entrepreneur in a place that is rural and isolated, the biggest challenge to your success is to ignore the naysayers who say something can't be done or you're not doing things the right way. There is no one right way to accomplish anything. If it hasn't been done before, that doesn't mean it's not a good thing to try. If you care passionately about your idea, do your homework, plan carefully and don't give up when it's hard to move forward, you too can take charge of your own future like the four Montana entrepreneurs NARFI showcases on this web page.